Cdl. Jorge Bergoglio chose the name Francis in honor of St. Francis of Assisi. Catholics on EWTN could barely contain themselves in the days after the 2013 conclave when they learned of this. The following comment (or some variation of it) was mentioned almost every five minutes on that network:
God told St. Francis to 'go and rebuild my Church.' Pope Francis will go and do the same. I can't wait to see how he does it!
That was then. This is now.
Earlier this week, Pope Francis welcomed Ahmed el-Tayyib and a small band of merry Mohammedans to the Vatican. El-Tayyib is "the grand" Imam of an Islamic center in Egypt that five years ago cut off relations with Rome because Pope Benedict XVI rightly pointed out that certain teachings of Islam are, well, false. Fine by me. After all, what does endless "dialogue" with non-Catholic cults accomplish anyway? It is certainly not Biblical to engage in such behavior. More often than not a dangerous form of human respect develops between the two "dialoguing" parties, resulting in a worldly friendship that ignores the person in error's eternal well being.
During their meeting, Francis told the Imam that "the meeting is the message."
I wonder, just what is "the message"?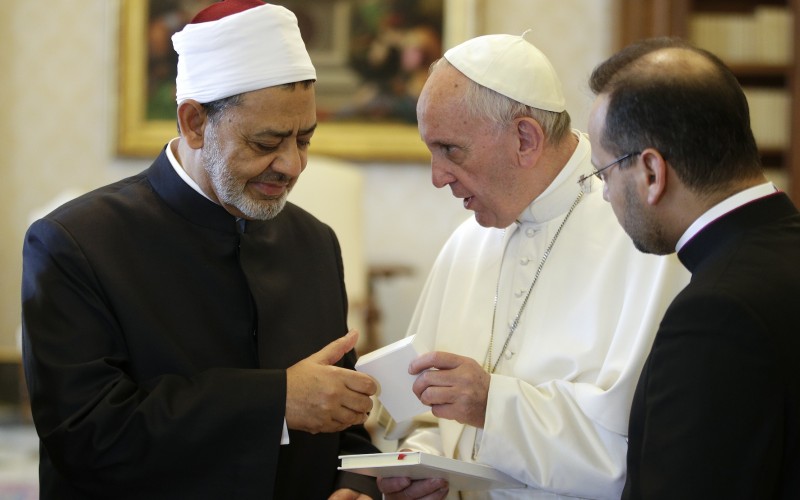 As far as I can tell, "the message" is "you're okay, I'm okay. Let's put aside doctrine right now. Let's all come together in fraternal brotherhood. We are all God's children. We will go forward slowly."
How utterly Masonic.
Indeed, it was this Pope who a couple years ago told Muslims to not embrace Jesus Christ, but rather to cling to "the faith that your parents instilled in you."
Following their embrace, the Vatican reported that the Holy Father and El-Tayyib discussed the need for the "authorities and the faithful of the world's great religions to show a common commitment to peace in the world."
Here's my question: How can there be a true commitment to peace if the "authorities and the faithful of the world's great religions" reject the Prince of Peace, Jesus Christ?
St. Francis of Assisi knew the answer to this question. That's why when he ventured off to meet with sultan Malek al-Kamil in 1219, he preached to him the Truths of the Catholic faith, the world's "one great religion." Dialogue, as it has been practiced by the Church since Vatican II, would have been viewed by him as an utterly un-Catholic concept.
Rebuild my Church? Pope Francis has done nothing of the kind and until he returns to Tradition, the Church will remain in ruins.