At Our Lady of Guadalupe Monastery much of the day is spent in prayer and labor.
In the afternoon, while many monks begin labor chores, Brother Bernard Marino and another monk head towards a building to begin roasting coffee beans and fill requested orders for Abbey Roast Coffee, the coffee the monks roast and sell to raise money for the monastery.
Entering the roasting room near the monastery, the smell of coffee beans greets your nose, while the pristine looking roaster complete with the Abbey Roast Label captivates the eyes. Click the image below.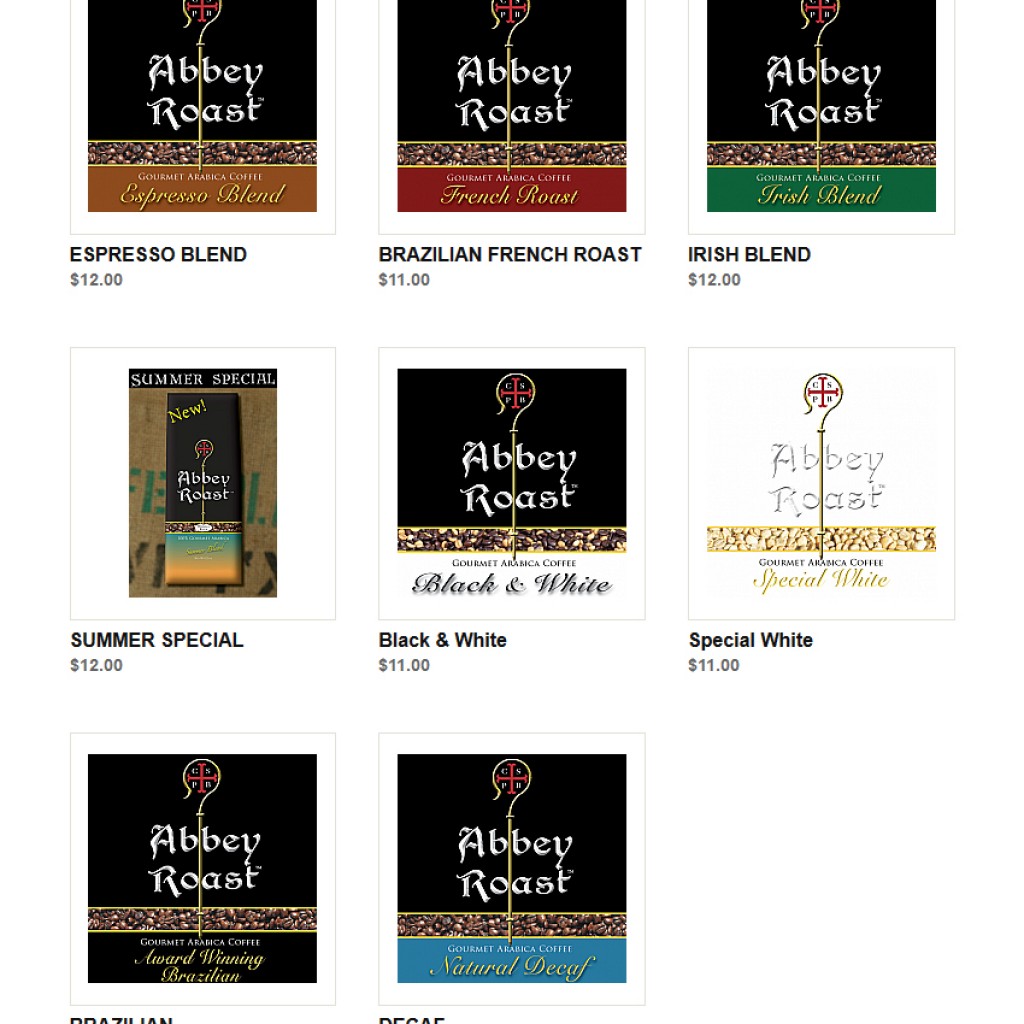 Brother Bernard, Guest Roaster and Dean of Coffee, is a former architect from New York who has been living at the monastery for over twenty years.
It was on a trip to a sister monastery in Brazil where Brother Bernard learned about coffee. That monastery had a coffee plantation surrounding it, and Brother Bernard enjoyed the fresh tasting coffee so much that he drank it late into the evening.
"I was there for about a month, and when I was there the brothers there taught me to roast coffee," says Bernard.
After returning from Brazil, Brother Bernard approached his superior who liked the idea, and soon this coffee venture began.
Brother Bernard learned basic roasting skills while in Brazil, but if the monks where going to make Abbey Roast a success they needed to seek the help of an experienced roaster.
"It's not as simple as it looks, there are nuances to it," says Br. Bernard.
The monks reached out to Bernie Digman, Owner and Operator of Milagro Coffee y Espresso in Las Cruces.
"Roasting is like any culinary pursuit, it's a life-long endeavor. You can turn out a very drinkable product," says Digman.
For eight months, Digman taught the monks the fine skill of roasting, and he was impressed with how determined his new students were.
"They are exceptional students, they spend a lot of serious time learning the ins and outs of roasting," says Digman.
The monks, using their connections in Brazil soon found a small family plantation to import coffee beans from. According to the monk's, in 2010 that plantations' beans won first prize in a Rio de Janeiro Specialty Coffee Competition.
"That's very good, it's like winning a prize for T-Bone steaks in Texas," says Br. Bernard.
Soon the monks received an attractive deal from a company to purchase their own roaster and Abbey Roast was up and running.
"So right now we have our own roaster, and after a year and a half we have roasted thousands of pounds," says Br. Bernard.
Around the roasting room are many different types of coffee beans that are labeled. Brother Bernard warms up the roaster, selects his beans and carefully pours them into the roaster.
According to Brother Bernard, the high altitude of the monastery helps the beans open up faster giving a quality flavor to a roast. While Bernard roasts, another monk helps grind and package orders. The monks try to turn the orders as quick as possible to keep orders fresh.
The monastery sells Abbey Roast online, and in several locations around New Mexico. The monks soon hope to sell the brand at a national level with a well-known company.
The proceeds of Abbey Roast help fundraise for the support of the vocations of the monastery, and to build future housing for the over 100 men that are on a waiting list to take up the life of a Benedictine monk there. The monks also have plans for a new church in the future.
Brother Bernard says that there is only one other monastery in the country that sells coffee. Like most roasters he stands by his product. Brother Bernard says you will not find a better cup of coffee, unless of course you visit his pal Bernie Digman's place in Las Cruces where the monks always try to stop by for a visit.
"Now we kind of share beans, and he is always coaching us, so it's been a real deep friendship that's developed nicely," says Br. Bernard
It's always nice to enjoy a cup of coffee with a friend, or in this case a brother.