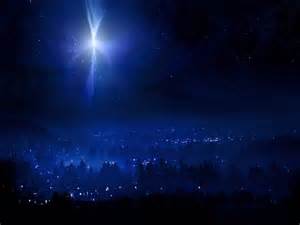 Here in North America, public Nativity Scenes are almost extinct, and any that get erected may not be up for long before someone complains that it is highly offensive. 
Therefore, in our homes and in our churches, let us try to construct Nativity Scenes that will not only bring to our eyes the reality of that sacred event, but that will also nourish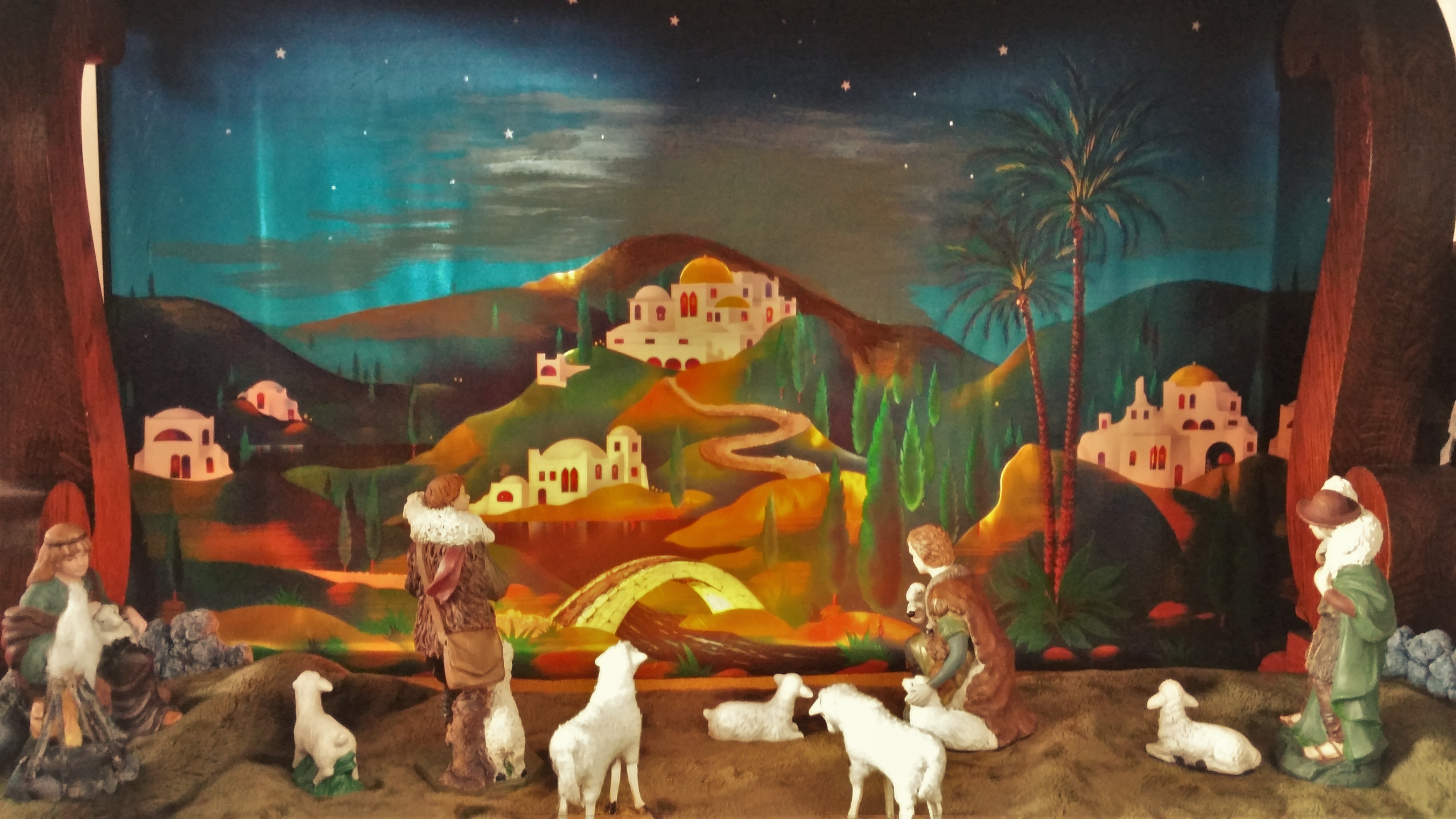 and inspire our souls with much to ponder upon before the Holy Day of Christmas. 
Many of us have most likely seen or grown up with a Nativity Scene only making its appearance on Christmas Eve and under the Christmas Tree. It was probably very simple and the three Kings were also put in it at this time.   No one paid any special attention to it as it was something that was customarily done every year.  If, however, you consider doing a more spiritual type of Nativity Scene and in stages over the Advent and Christmas seasons, you may find that it may be of greater spiritual benefit and the whole family will look forward to this project every year. 
Holy Mother the Church has blessed Catholics by giving us a beautiful liturgical season of preparation for the upcoming celebration of the feast of the Nativity of Our Lord.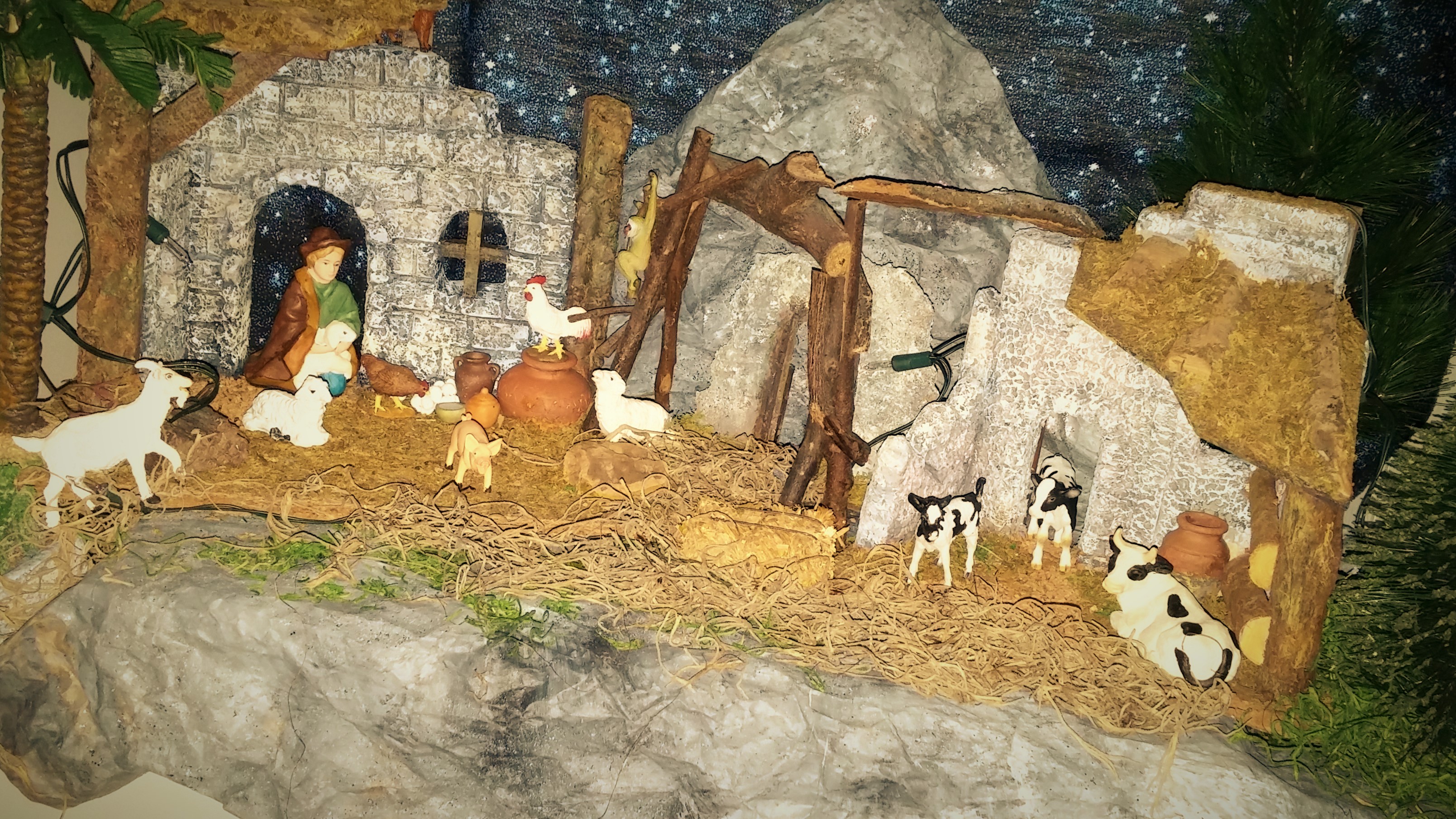 Devout Catholics should not only begin the holy season of Advent by setting up an Advent wreath, but they should also have erected by this day, the first stage of a more spiritual type of Nativity Scene.  The first stage in putting up a more spiritual Nativity Scene consists in setting up an EMPTY stable, cave, or grotto by the First Sunday of Advent.  Consider just leaving the Christmas gifts to go under the Christmas tree and choosing some other prominent or elevated area of the home to erect either an elaborate or simple Nativity scene as best suits your situation.  The stable can be homemade and if you have a friend who is a handyman or carpenter, perhaps he might be willing to lend a hand.   Otherwise, it is still possible to buy new or second-hand stables.  Alternatively, why not try making a cave or grotto out of rock-paper which can also be purchased online or it can be easily made from the brown paper rolls that are used to wrap parcels.  The brown paper may be spray painted with a rock-textured paint, a little more expensive, but worth it in the end as it gives a more realistic finish. Otherwise, overlapping layers of ordinary spray paint like black, purple, and pink give a midnight-gray-colored rock paper; while red, yellow, and white give a desert-like sand-tone color. The rock paper is thoroughly dried and then gently crumpled to give it that rock-like effect.  Finally, with a little bit of imagination and a little more patience, the rock paper is carefully placed over some kind of a frame, like an empty tall and wide cardboard box.  Rips and tears can be expected, but they can be ingeniously covered up later on.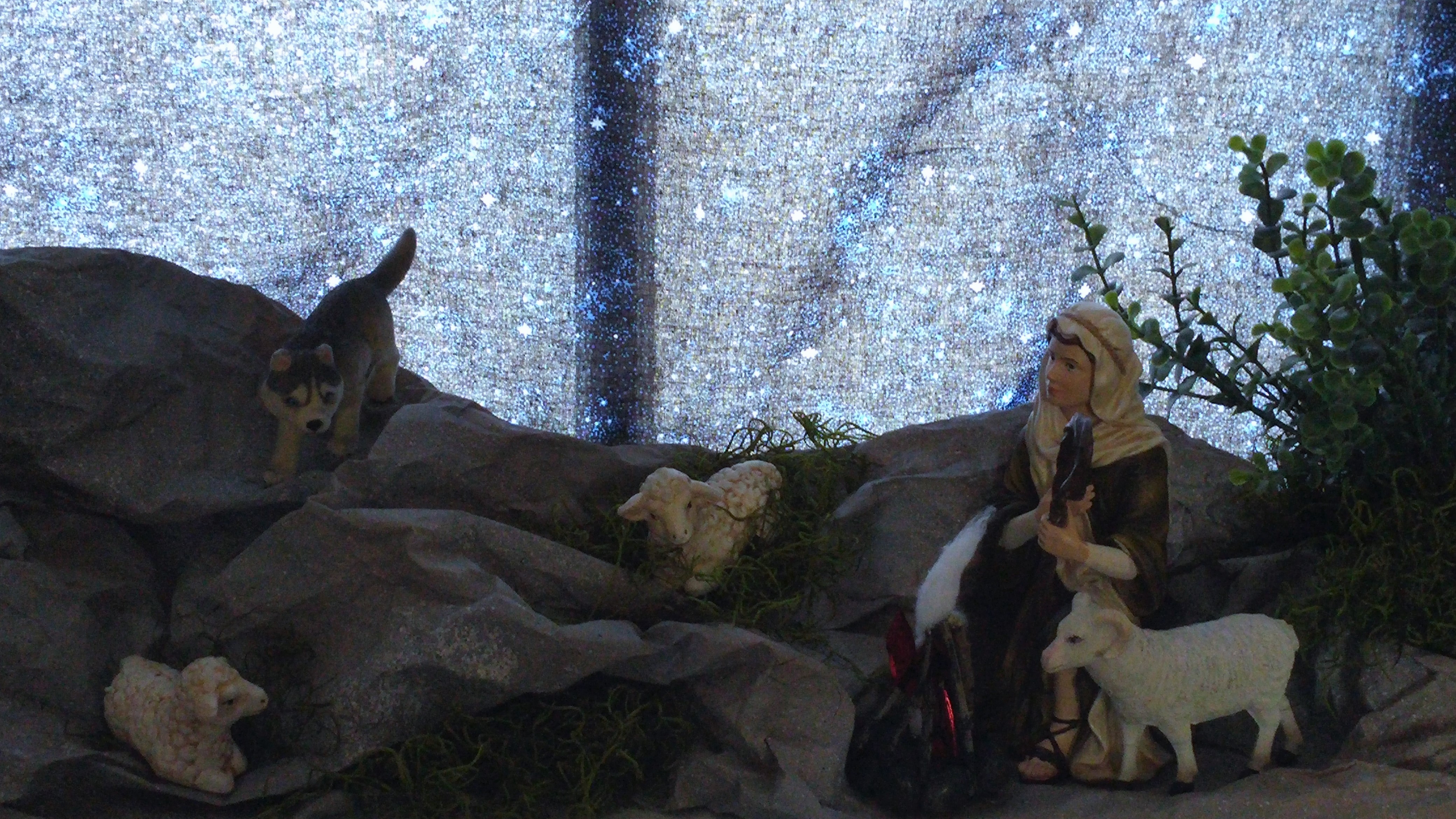 The spiritual significance of the cold, run-down, dark, and the empty cave has at least two profound meanings.  First, it reminds us of the state of the world before Our Lord came. Yes indeed, this earth of ours was VERY dark and VERY empty before HE came.   Our Lord is the LIGHT and He gives LIGHT, and we celebrate His Holy Birth with much LIGHT, be it in the form of festive candles or Christmas lights.  The second meaning of the empty, dark, cold stable is that it is a figure of our own souls without the grace of God. Advent is the time to stir up, not only fruitcakes and plum pudding, but it is a time to arouse ourselves to perform those extra little sacrifices, of doing those good, selfless deeds that go unoticed by others making them precious in the sight of God.  Gradually, our Nativity scene will come to life and light as we embellish and adorn it with more figurines, minute details, and many lights; just as our souls will become more beautiful as we adorn them with more virtues, good deeds, hidden sacrifices, and fervent prayers.  Consider investing and buying the most beautiful Nativity Scene Figurines you can find and try to find a set where the Baby Jesus and manger are separate.  In vintage Nativity sets, Our Lady and St. Joseph can both be found kneeling, the most appropriate posture of adoration and prayer which is certainly what they both must have done that first Christmas night.   With many modern Nativity Scene figures, St. Joseph is now almost always shown standing, and also for some unknown reason, with arms outstretched! 
As with the Advent Calendar, the spiritual Nativity Scene should also unfold daily, new little treasures. The first figurines to appear should be that of shepherds with some sheep or lambs.  Again, this reminds children, old and young, that we should spend the whole of our Advent like those first shepherds on Christmas Eve – waiting and watching; and ardently desiring that the Expectation of Nations to come. "Come, Lord Jesus, Come" is a simple and fervent aspiration that should be on the lips and in the hearts of all.  Start day number two of Advent with one shepherd and a few sheep and gradually increase their number and vary their positions, as well.  Have one of the sheep go astray when one child in the family has been naughty, and everyone knows it!  The shepherds and their sheep are going to be cold, and they are going to need a warm fire and also, the sheep and lambs are hungry, and they are going to need some hay bales and a pasture to graze in.  These are details that can be easily made by using moss from outside, if available, or it can be affordably and easily bought in the form of Spanish moss that comes both in natural and green colors.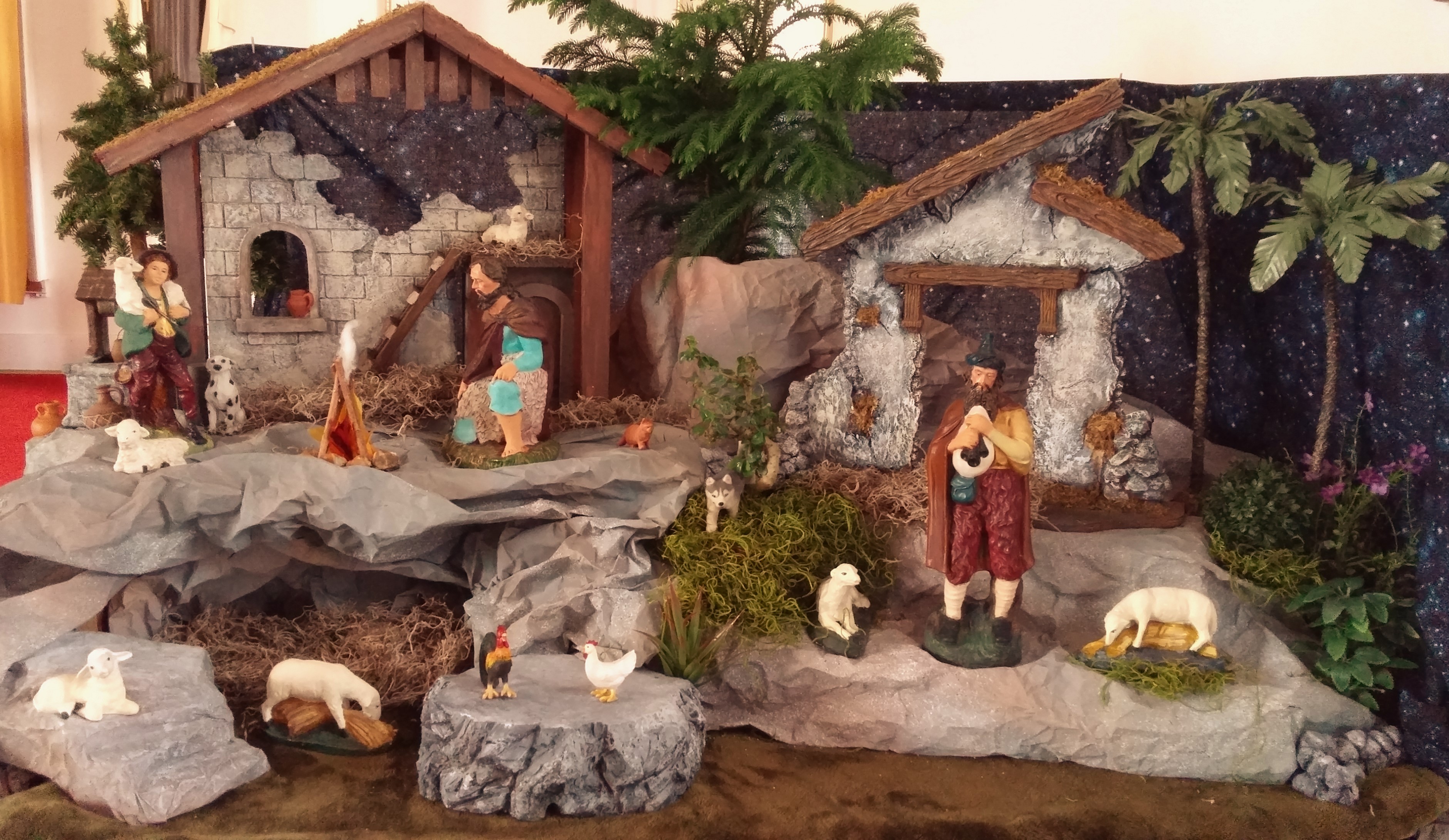 In the days gone past, Catholic children would grow kernels of wheat for their Nativity scenes as it grows quickly and looks like grass. Also, the tops of carrots and radishes can be placed on a dish with water and these too, can sprout rather fast and look like miniature shrubs!  The ideas and possibilities are endless.  Accessories like water pots, walls, and more sheep can also be made from a simple salt dough mixture of two cups flour, one cup salt and one-half cup of water. 
Farm animals are a nice touch, as cats, dogs, chickens, roosters, and even pigs can trot around the stable before the Holy Family comes. Out in the wild, foxes and wolves can be placed hiding around corners that are symbolic of the devil who is also waiting and prowling about ready to snatch any soul that he can get!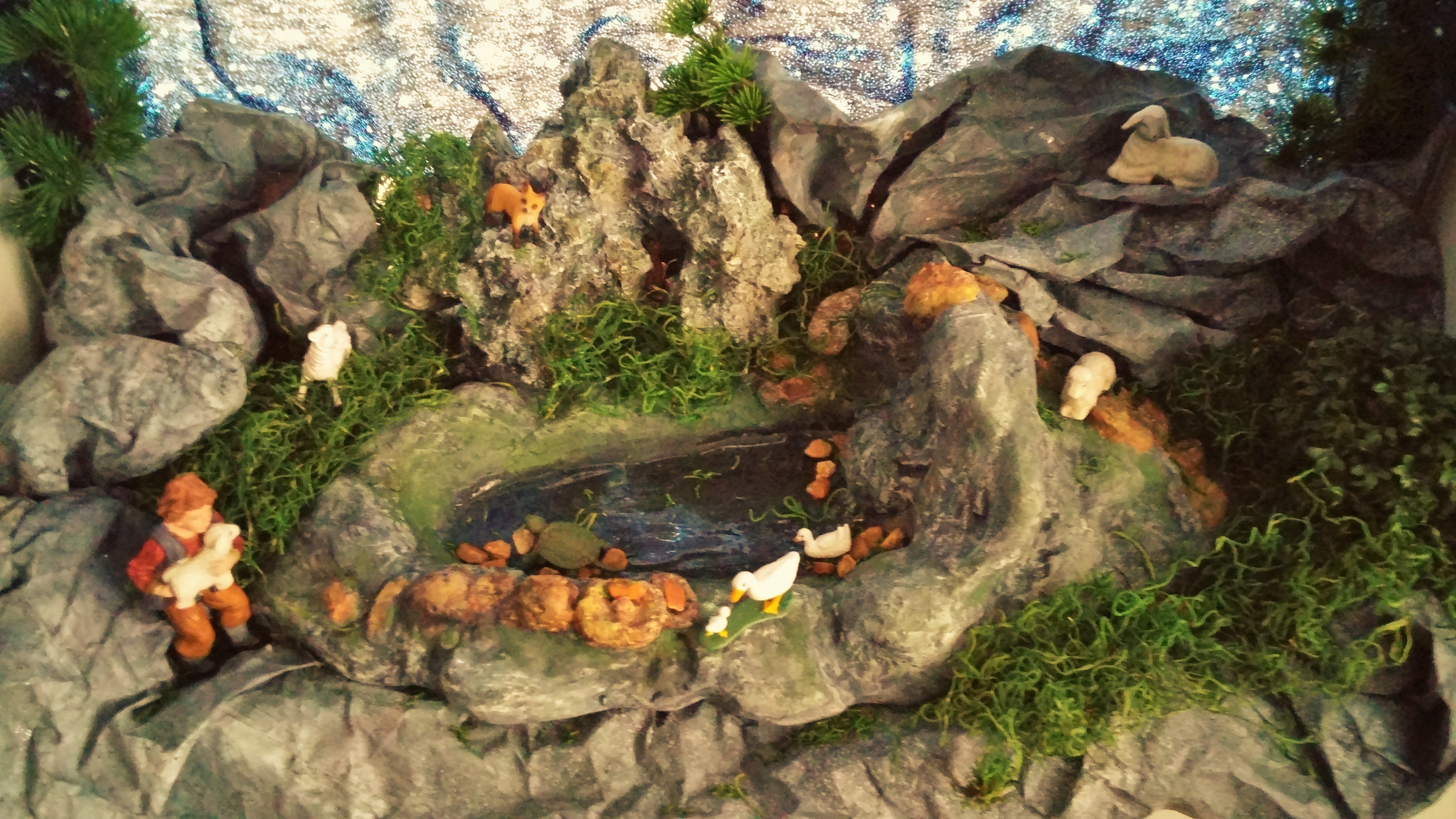 As the last week of Advent approaches, a re-enactment of the Angel telling the shepherds go to Bethlehem might be possible to portray, while in the stable, the empty manager reminds all that the Holy Birth is not far off.  By Christmas Eve, the stable should be all ready.  If possible, get your Parish Priest to bless the Nativity sometime during Advent or perhaps at the Epiphany when some Priests do the blessing of homes.  Epiphany is also the correct liturgical time to put the Wise-men and the star in the Nativity, although the star may also be put on Christmas Day.
One rather "cute" custom is to have the Kings make a "visual" journey to the Nativity Scene.  Have the Holy Magi start their trip a few days before the Feast of the Epiphany at the highest or furthest point away from the Nativity Scene.  Gradually, move the  Kings closer and they may get lost at one point, as Scripture tells us that they suddenly saw again the star the was guiding them and were exceedingly glad. For example, at that point, the Kings could be seen going down the stairs, and when they get lost, they can then be seen going back up the stairs!  When the Kings leave the stable, make sure they also have some gifts to leave behind.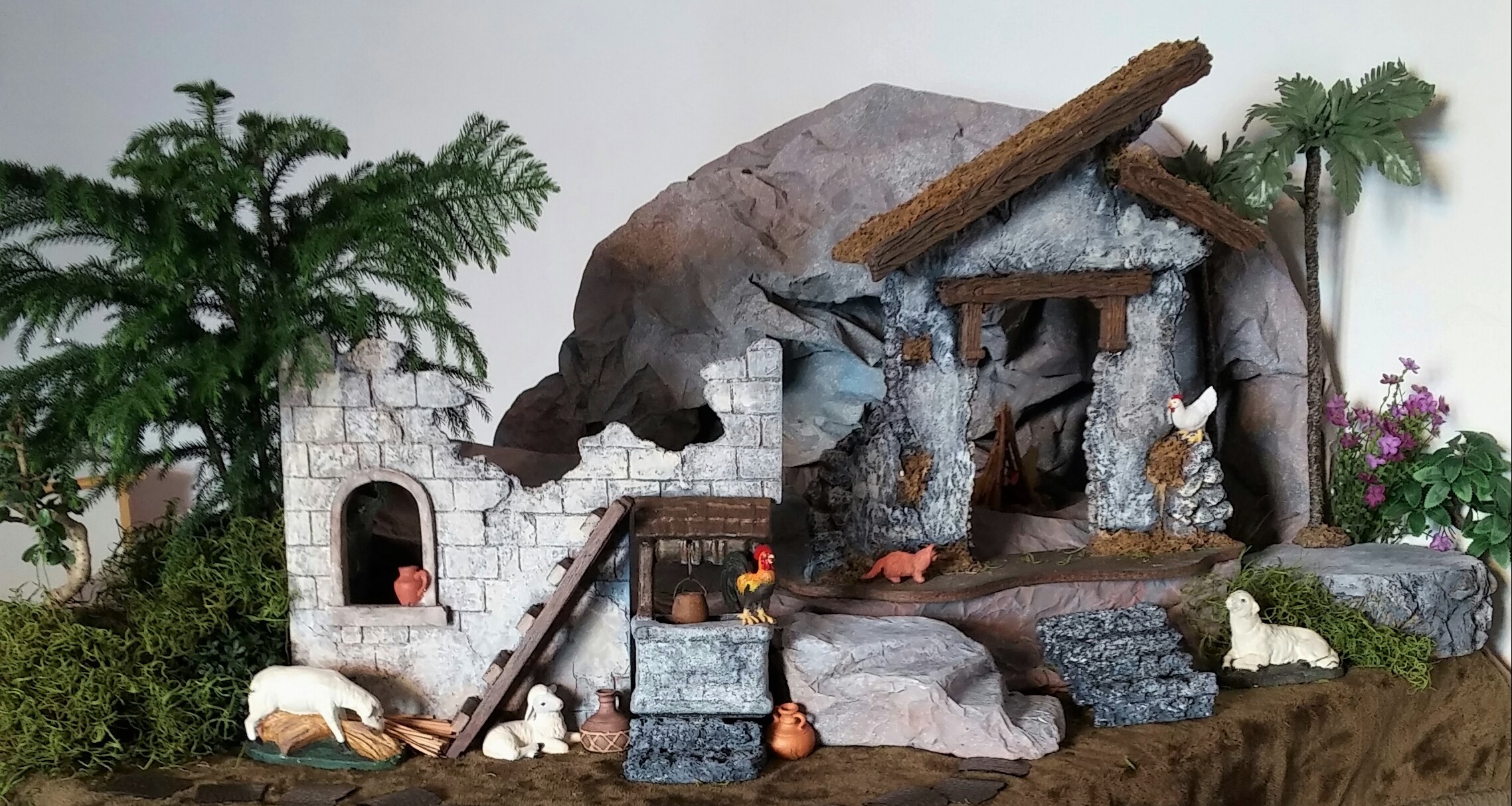 For the Feast of the Holy Family, it might be nice to have all the guests gone from the stable so that Jesus, Mary, and Joseph can have some quiet time together. The liturgical season of Christmas ends January 14 and for some, this is a fitting time to take down the Nativity Scene. For others, they keep their Nativity Scenes up as far as February 2 which ends the liturgical cycle of Christmas. In either case, the Nativity should be removed before Septuagesima Sunday which may come as early as January.
 In conclusion, may the erecting of a more beautiful and devotional Nativity Scene be for your family or for your parish a source of many graces and each year a renewed highlight of Advent and Christmas seasons. There was no room for Our Lord at the Inns of Bethlehem because their rooms, like their cluttered souls were filled with the cares and concerns of this world.  May Our Lord find our souls ready for the graces He wishes to bring us after a fruitful and profitable Advent.
By Nadine Kuchta