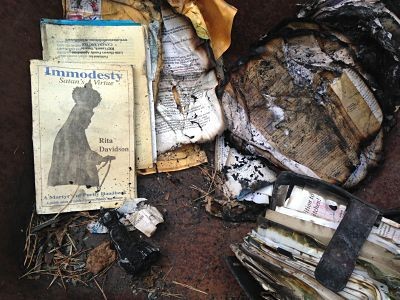 In an instant, your life can change either for the good or for the bad.
In Rita Davidson's case, on July 19, 2013, she and her family met with a huge cross.  The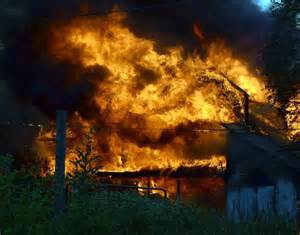 loss of their home, pictured on the left.  Everything was completely gone!  Even their car.  They literally only had the clothes on their backs.  Would you be able to handle this cross with a resolution to God's will?  We have to learn to carry our crosses and today Rita will tell us how she did just that and in the process found hope when she discovered her original manuscript, Immodesty, Satan's Virtue, untouched,  in the pile of ashes she once called her home.
Immodesty, Satan's Virtue was written back in 1996 when she founded with her husband, Mark, Little Flowers Family Press.  Over the years, this book has produced much interest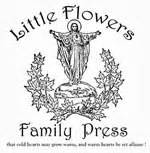 to the public and has cast an awareness of the problems we have with immodesty and what it does to the soul.  Our Lady of Fatima said, " the most souls fall to hell from sins of the flesh, than any other sin."  Over the past few years since the fire, Rita has been looking into new research for the 3rd Edition of her book, Immodesty, Satan's Virtue and the facts she has uncovered might startle you. 
Please join us today,  Monday, October 5, 2015 when we interview Rita from Little Flowers Family Press about her book Immodesty, Satan's Virtue on Your Morning Tradition between 6am – 8am and from 3pm – 5pm, CDT, USA on Magnificat Radio at Magnificatmedia.com.
Visit Little Flowers Family Press and learn about real Catholic modesty without sacrificing Eternity and pre-order the book starting October 13th here:  Little Flowers Family Press