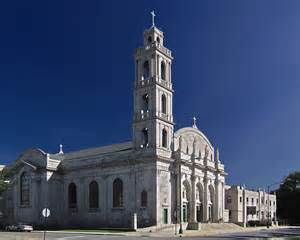 Podcast: Play in new window | Download | Embed
Built in 1923 this historic, beautiful Shrine has survived through 93 years of history. 
Not many people know that the Shrine of Christ the King was once called St. Clara's Church and use to look like this.  In 1976 God's church survived a fire and was reopened in 1980.  Years down the road the name changed again to St. Gelasius and in 2003 the residence of Woodlawn were given their first clue of the demolition of their church when utility workers tried to enter the church to shut off the utilities but an industrious nun stopped their efforts and wouldn't allow them access.  St. Gelasius was rated Orange however there was no public notice of the demolition which was required by law.  When they discovered irregularities in the application process the demolition was shut down.  On September 4, 2003 it was  recommended that St. Gelasius be granted Preliminary Landmarked status.  The Archdiocese tried to use the owner consent clause for houses of worship but because St. Gelasius had been vacant for over a year the City argued that it could not be blocked on the basis of the church being an active house of worship.  The City then moved forward with Preliminary Landmark designation for St. Gelasius and therefore was saved from being demolished!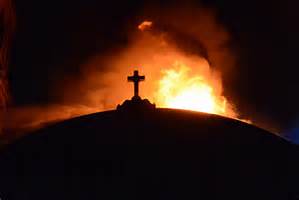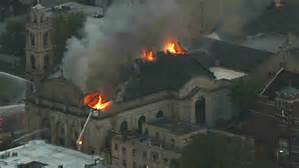 Since 2006 The Institute of Christ the King has been in the middle of renovating this alluring Shine when on October 7, 2015 on the Feast of the Most Holy Rosary a devastating fire broke out at the Shrine of Christ the King.  Once again, this beautiful, historic Shrine was chard from the inside but survived and the majority of the outer structure still remains solid.  The people of Woodlawn love their church and realize how important the Shrine of Christ the King is for their community.  It's their home.  Imagine how they felt when they heard the news that the Archdiocese of Chicago was going to demolish their church yet again, God's church, their home!  The good people of Chicago pulled together with the advocacy group Preservation Chicago to gather pledges to pay for stabilizing the building.  They succeeded.  In late February the Archdiocese of Chicago reversed their plan to demolish the Shrine and transferred the building and land, at no cost, to the Institute of Christ the King.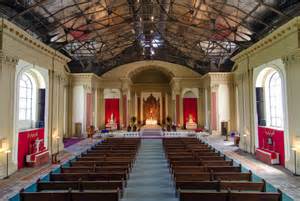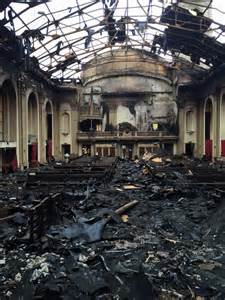 Now they need your help and is urgently needed!  There are several ways you can help.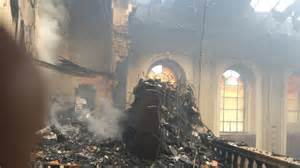 To learn more details about this devastating fire listen to Your Morning Tradition when we interview Rev. Canon Matthew Talarico from the Institute of Christ the King on MAGNIFICAT RADIO from 6am – 8am and from 3pm – 5pm, CST, USA, Thursday, March 10th, 2016 @ www.magnificatmedia.com ~ "LIVING OUR FAITH"©  Click the LISTEN LIVE button and check out our blogs and archives.
Great video about the cross that was on the main altar: 
To hear a sermon from Msgr. Schmitz on October 11, 2015 a few days after the fire: